RODEO RANCH MUSEUM

Offers you a western welcome. Displays in the museum feature the life of the cowboys and ranchers who first came to the area in the 1800's. Western and rodeo artifacts, an adobe, a turf club building and a pioneer kitchen are reminders of early ranch life. You can help make a rope, cook bannock and make lye soap. Open 7 days a week, May to September. It has over 1200 historical photos and 2000 artifacts and information centre for Grasslands National Park. The Rodeo Ranch Museum is located beside the swimming pool in the park.
---
WOOD MOUNTAIN POST PROVINCIAL HISTORIC PARK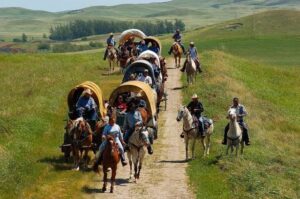 The Historic Post is a partially restored North West Mounted Police post. In the two reconstructed buildings, its displays depict much of the NWMP history as well as that of the Sioux who came to the area. The displays also contain artifacts from two archaeological digs conducted on the site. The museum is fun for kids too. You can use old style hand-cuffs on your friends or sit in a 19th century jail cell. It offers excellent school tour programs and has a tour guide on site.
The Historic Post is located just outside of the park.  Take a short hike through the park to the Post, and have a quiet picnic on the other side.
---
SITTING BULL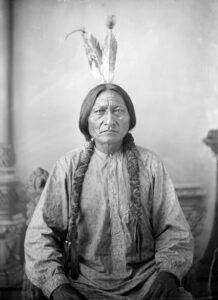 The famous Sioux medicine man, Sitting Bull and as many as 5000 of his Sioux followers took refuge here from the US Army after the battle of the Little Bighorn in 1876. Although Sitting Bull returned to the US in 1890 and later died, some of his followers remained and their descendants still live in the area to this day.
A monument to Sitting Bull has been placed at the top of the hill overlooking the Regional Park behind the Rodeo-Ranch Museum.
---
WOOD MOUNTAIN STAMPEDE

If you want some exciting rodeo action, the Wood Mountain Stampede is the place to be! Come and sit under the brush covered grand stand and watch the CCA approved rodeo. The rodeo features all major events and a few special ones too! Don't forget the dances on Friday and Saturday nights in the big Out Post Building. The rodeo is held annually on the second Sunday in July, with action starting on the Friday before.
---